Skip to Content
About All Seasons Pools & Spas, Inc
Swimming Pool & Hot Tub Services in Chicago's Southwest Suburbs
About All Seasons Pools & Spas, Inc.
Step into luxury with the products and services of All Seasons Pools & Spas, Inc in Orland Park, IL. Gene and Claudia Mayhall began the company in 1954 to provide pool owners with only the best products available, supplied by industry professionals who know their job and care about their customers. Initially working out of their home, the business first moved into a vacant gas station, followed in 1962 by a land purchase in Orland Park, where All Seasons still operates. All Seasons joined the NSPI in 1965 and continues its support of the industry and the PHTA today. In 1970, Gene Mayhall died, leaving Claudia and their son, Doug, to run the business. In 1982, Claudia retired, and Doug took the helm as President. All Seasons' retail store and service department flourished as Doug built upon their family business principles of always caring about customers as far more than a business transaction. All Seasons went from an office in the Mayhall home to a Top 50 Pool Builder, Top 50 Service Company and Top 100 Retail Store in the U.S.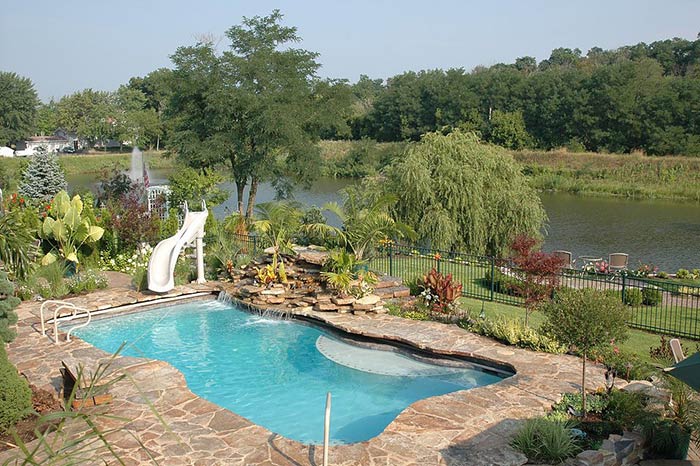 All Seasons' Awards of Excellence
The Mayhall family is proud to act as leaders within the industry. We're pleased to hold consecutive awards for Top 50 Builder from 2013 to 2019 and 2021, Top 50 Service Company from 2018 to 2021, and as on eof the Top 100 Retail Stores in the Country . The All Seasons' team has held numerous Regional and National PHTA offices, taught countless industry courses, written articles for trade publications, and been judges for the industry's International Awards of Excellence. Some of our other awards include:
Gold, Silver and Bronze NSPI, APSP and PHTA Awards of Excellence
AQUA 100 Winner
PHTA Superior Service Award
PHTA International Award of Excellence
PSN Masters of Design
Step Up Your Outdoor Living Space
From outdoor kitchens and spa repairs to pool remodeling and mosquito control services, All Seasons Pools & Spas is here to help you live your best outdoor life. Our pool design and building experts are with you from project design to cleanup. We use our knowledge and experience in the field to maintain your backyard and make sure you have the most modern amenities and equipment. We work with many different materials to help turn your backyard dreams into reality. We construct inground pools with shotcrete, vinyl, and fiberglass, giving us the ability to find the best construction method for your family, yard and budget. We can also help with pool opening and closing services. While swimming pools and spas are our specialties, we also work with other masonry materials and wood to build beautiful pergolas and pavilions. Once we are finished building your pool, let us take care of your pool maintenance. If something breaks or you need to replace your pump, you can count on the All Seasons team to get it repaired right away.
Visit Our Online Store or Showroom
When you are ready to build the backyard of your dreams, give All Seasons Pools & Spas a call and allow us to help you make your dreams come to life! You can also visit our online store to browse our inventory or check out our showroom. We service the entire Chicagoland area and can virtually make any of your outdoor living dreams come to life. Contact us today!
Contact Us Today to Turn Your Dreams into Reality