Skip to Content
About All Seasons Pools & Spas, Inc
Pool Contractor Company in Orland Park, IL
Gold, Silver and Bronze NSPI and APSP Awards of Excellence adorn our showroom
Founded in 1954, All Seasons Pools & Spas' history is one based on providing pool owners with only the best products available, supplied by industry professionals who not only know how to do their job but also care about their Orland Park and Chicagoland area customers.
For over 60 years, All Seasons has been proud to have its owners and principles not only act as leaders of All Seasons but also as leaders within our industry. All Seasons' owners and principles have held numerous Regional, and National APSP offices taught countless industry courses, written many articles for trade publications and have been judges for our industry's International Awards of Excellence.
All Seasons has had the pleasure of earning several awards throughout the years. Gold, Silver and Bronze NSPI and APSP Awards of Excellence adorn our showroom and office walls in addition to industry service awards.
One of our most treasured honors was being named as a top 50 builder in the country by Pool and Spa News in 2013, 2014 and 2015, a designation that included our staff being ranked as the number one staff in the country for swimming pool builders.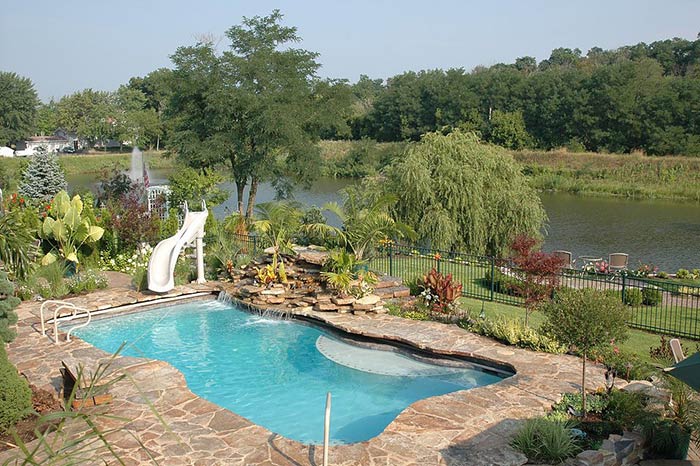 All Seasons Pools & Spas Steps Up Your Outdoor Living Space
From patios and outdoor kitchens to pool remodeling and mosquito control services, All Seasons Pools & Spas is here to help you live your best outdoor life. Our experts are with you from project design to cleanup, and we will use our knowledge and experience in the field to maintain your backyard and make sure you have the most modern amenities and equipment. We have helped liven up backyards throughout Orland Park and surrounding Chicagoland areas for over 60 years, we'd love to help you too!
We work with many different materials to help turn your backyard dreams into reality. We have constructed inground pools with shotcrete, vinyl, and fiberglass. Rectangular shaped pools are a thing of the past, let us help you imagine a fun shape that fits your yards and your needs. While these are our specialty, we have grown as an installation team and work with other masonry materials and wood to help build beautiful pergolas and pavilions.
Once we are finished building your pool, you and your family will want to relax and enjoy it throughout the hot months in Chicagoland, so let us take care of the maintenance of chemicals and equipment. If something breaks, or you need to replace your pump, you can count on the All Seasons teams to get it fixed right away!
Visit Our Online Store or Showroom
When you are ready to build out the backyard of your dreams, give All Seasons Pools & Spas a call and allow us to help you make them come to life! You can also visit our online store to do some browsing of our inventory before stopping by our showroom to let a professional designer help you create your backyard oasis. We service the entire Chicagoland area and can virtually make anything you can think of in the designing process.
Contact Us Today to Turn Your Dreams into Reality