Skip to Content
Spa Design & Construction
All Seasons Pools & Spas, Inc is here to help you with all of your spa design and construction needs in the Orland Park area. We have six decades of expertise in this particular field and have been named one of the top 50 builders in the entire country since 2013 – that's six years in a row! We take a great deal of pride in the finished product we provide, and our spas always look amazing! Ask us for some examples and we'll show you some of the spa projects we have designed and built in the region. We think you'll be impressed!
Our staff is extremely knowledgeable in all things spa-related, and we have three top PHTA Certified Building Professionals on staff right here to serve you. When you hire our team to create a luxury spa in your yard, you can feel confident that the results will not only look high-end but be exactly what you envisioned. We do our very best to bring your vision for relaxation and pampering to life so you can enjoy it for many years to come.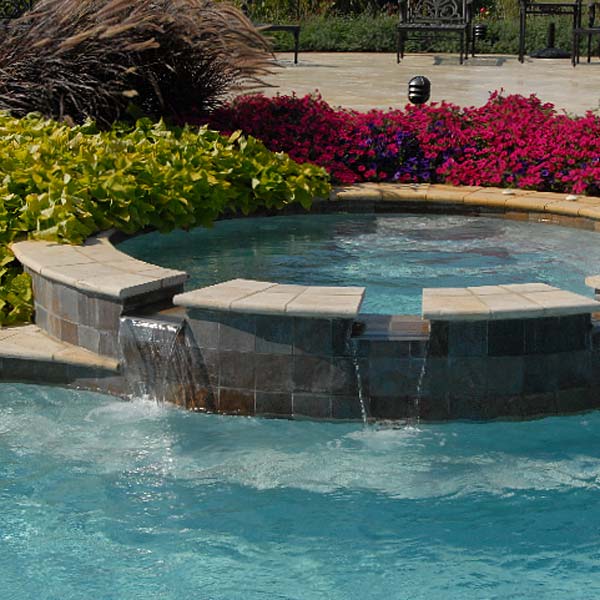 Custom Spa
Whether you picture a small nook in the corner of the yard with a spa tucked away out of site, or you prefer something on display for all to see, our team can create it. We design and install spas of all sizes, and we can make it blend in with nature, or make it stand out in a more modern design. From the traditional to the unconventional, we have the tools and product to make nearly any type of spa environment you might like.
People enjoy spas for a variety of different reasons, ranging from relaxation to recovery from a tough sports match. Regardless of whether your preference is for luxury or restoration, we have a spa that will suit your lifestyle, and our design specialists can add all the bells and whistles you like to the package. We take the time to sit down with you and really explore all the ideas you have for making the spa perfect, then we base our concept on those factors.
Private or Social Spaces
Depending on the spa, we can help you craft it as a social setting, or as an escape. If you prefer to use it while alone or want to use it primarily to unwind, we can create a tranquil scene that envelops you in quiet comfort. We'll even be glad to make recommendations for lighting and other features you can employ to bring out that vibe.
Our designers can create more social spa areas as well, making use of positioning and setting to bring out the bling and bring on the fun! Something as simple as deciding on the place for your spa unit can make it a gathering spot or encourage a more party-like atmosphere. We'll be happy to help make that happen!
Contact Us Today to Turn Your Dreams into Reality