Skip to Content
Spa Design & Construction
Custom Spas
All Seasons Pools and Spas has been building custom spas for over 60 years! Recently named as having the #1 rated staff in the country and as being one of the top 50 builders in the country by Pool and Spa News, All Seasons is considered the industry leader for all of your backyard needs. Our award-winning custom spa installations are truly extraordinary! Whether you're looking for a custom inground shotcrete or acrylic spa, or a custom installation of a self-contained unit, All Seasons Certified Building Professionals are who Chicago area residents turn to.
Our professional staff includes three of the top APSP Certified Building Professionals in the country; a designation earned by less than 1% of pool builders in the U.S. Our in-house design consultants work closely with our clients to create a personal backyard retreat that centers on how they like to live, work and play. We then take these concepts to our staff of APSP Certified Building Professionals to ensure that the integrity of every project will far exceed its demanding environment.
When you choose All Seasons, you are choosing unmatched professionalism, quality, and reputation.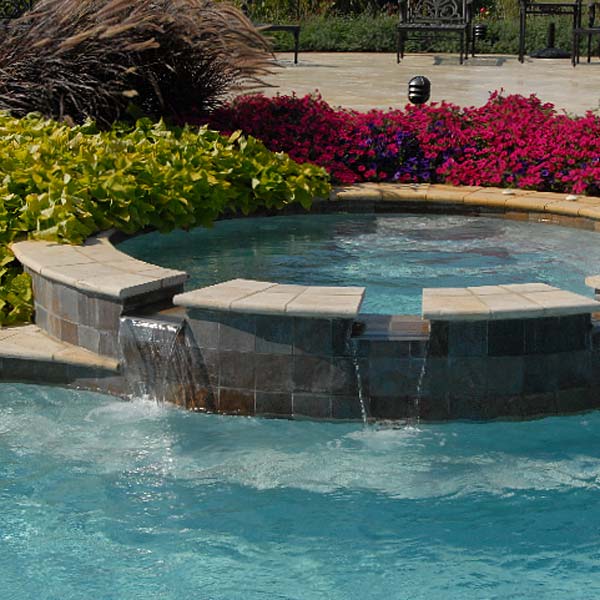 Experience a Custom Spa
The sparkling waters bubble and churn, inviting you in. Framed by an outdoor landscape, hidden in a private gazebo or designed as an extension of your living room or bedroom, All Seasons will help you to make your spa or hot tub a uniquely enjoyable addition to your living area.
For centuries, people have bathed in natural hot springs because of their supposed curative powers. Primitive cultures built temples around such springs, believing them to be the dwellings of gods and spirits. The Romans went a step further and built huge public baths for thousands of people. Today, hot mineral springs are still thought to have therapeutic value; and many famous resorts in the United States and Europe are based around natural mineral baths.
Modern professional athletes have also found value in a good, hot soak. Many professional sports teams prescribe hydrotherapy and hot baths for players with painful joints and sore muscles. For the same reasons, a spa or hot tub is appreciated by anyone involved in a physical sport or activity. After a game of tennis, jogging, or even a hard day at the office, climbing into your spa or hot tub is a good way to relax. A hot soak can relieve not only physical stress but mental stress and tension as well.
Fun & Relaxation
Soaking in a hot tub is also a good place for a relaxing conversation, so you may find that it becomes a social center in your home. You can invite neighbors in for a soak, and your friends will certainly warm up to your hospitality. To make entertaining even more enjoyable, you can add pillows, water features, floating juice bars, and even tables. Of course, the design of your spa or hot tub makes a big difference in your style of entertaining. All Seasons will work with you to create an indoor retreat, a family recreation area or an outdoor health center. All you need to add for fun and relaxation is your family and friends!
Contact Us Today to Turn Your Dreams into Reality