Skip to Content
Pool & Backyard Remodeling
Professional Pool Renovation Services
Are you considering a pool renovation or backyard remodeling for your home in Orland Park, IL? All Seasons Pools & Spas offers both of those services, so you've come to the right place. Inground pools and backyards tend to go through cycles, and many homeowners don't realize the options they have with their inground pools. Is your pool deeper than you would like, or is its shape not quite what you prefer? Are you tired of re-painting your pool year after year, or do you have an old liner that's worn out? Are you ready to replace that old, inefficient equipment? If you've answered yes to at least one of those questions, it's time for an updated pool or backyard from our experienced professional team as you can also hire a remodeling contractor in Chicago for a more deep work in your backyard and home. We will make your backyard into your very own home resort. Get in touch with us today to get a free quote.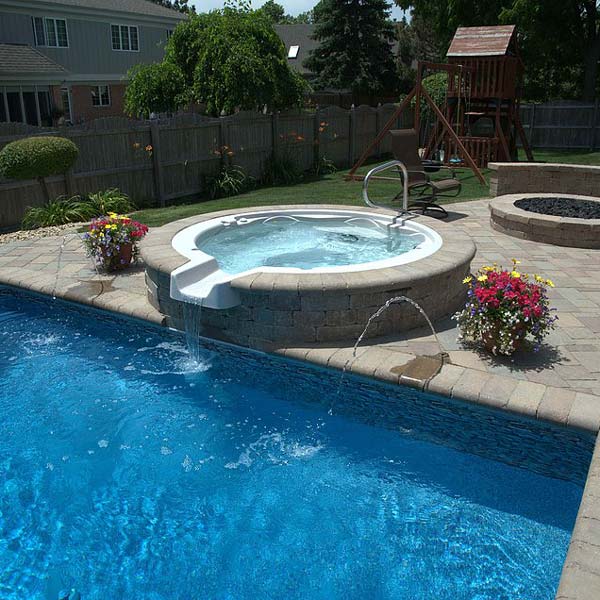 Is It Time for a Pool or Backyard Renovation?
Do your patio and deck need replacing? Is your pool liner or plaster finish worn and ready to be replaced? How about adding new tile, pool fencing, and coping? Don't forget about the rest of your backyard. Have you ever wished for an outdoor fireplace or fire pit or a custom outdoor kitchen and bar area? We know we're asking a lot of questions, but we want to help you realize how amazing a pool and backyard renovation could truly be. Our team of designers and in-house craftsmen can transform your outdoor space, complete with all the options we mentioned and more. Get in touch with us today to find out how we can make your great backyard even better.
Swimming Pool Remodeling & More
The team at All Seasons Pools & Spas is committed to providing the highest level of customer service for your pool remodel, pool pump repair, or pool resurfacing job. We can transform your pool to give it a more updated look or add features you've always wanted. You don't have to settle for a pool that has cracks, loose or broken coping, or worn-down tile. Our pool remodeling services include resurfacing, waterline tile, coping, LED lights, and much more. Enjoy the swimming season in Illinois with a remodeled pool or backyard. You'll experience added beauty and an increased property value, energy-efficient equipment, a pool that's kid and pet friendly, long-lasting features, and a new look and experience.
Frequently Asked Questions About Pool Renovations
Homeowners who want to renovate their pools and backyards often have lots of questions for us, and we're happy to answer them. We've prepared the answers to the questions we frequently received:
How long will my pool be down during a remodel?
We try to get your pool back up and running as fast as possible so you can begin enjoying it. Pool remodel timelines do  vary based on the job, but with our skilled in house craftsmen, you'll have comfort in knowing that your project will be done the right way with as little downtime as possible.
What does the pool remodeling process involve?
The pool remodeling process begins with a consultation with our experienced team. We will provide a quote for your remodel and then help you make your product selections. After the work is confirmed, we will get going on your pool remodel so you can enjoy it for years to come.
What choices do I have regarding my pool remodel?
Homeowners have many choices to make for their pool remodel, including the plaster type and color, coping, tile, stonework options, and the largest variety of inground liners available. Some customers prefer traditional tile selections, while others prefer elaborate glass or mosaic tile. When it comes to coping and decking, you can choose from travertine, flagstone, paverbrick and more. We will take the time to go over all your options with you and help you get what you want while staying on budget.
Multiple Remodeling Options
We can tell you how amazing our pool and backyard remodeling services are, but seeing is believing. Check out some examples of the work we've previously performed.
Orland Park Update
A renovation does not always mean removing or entirely revamping the backyard.  Subtle changes can make a profound difference. Replacing the liner, paver decking, plumbing, and electric with updated material go a long way in making a backyard look new.  A brick outdoor kitchen was added for a nice entertainment space.
Downers Grove Remodel Part 2
About five years after the first remodel, this family decided they were ready for more. With a new house addition, the flow to the yard just didn't work anymore. New entrances to the pool area and the need for more in the yard caused this family to call on All Seasons Pools & Spas once again for help with their backyard.
Get Started on Your Remodel Today
All Seasons Pools & Spas offers all the pool services you need for your inground pool, spa or hot tub, and more. We would love to speak with you about all the options you have for remodeling your pool or backyard. Contact us today to get started with your free quote.
Contact Us Today to Turn Your Dreams into Reality