Skip to Content
All Seasons Pools & Spas Offers Spa and Hot Tub Repair
Turn to the experts at All Seasons Pools & Spas, Inc. when you need professional spa repair in Orland Park, IL. For more than 60 years, our team of technicians has serviced spas and hot tubs throughout Chicagoland to the satisfaction of our customers. We take great care to listen to our patron's concerns and serve their spa repair needs accordingly. Whether you have a spa that you already love to use, but is a pain to drain and clean, or you've been experiencing leaks and need repairs, we can help. We'll diagnose any issues with your current system, suggest upgrades that could improve your ease of use, and take care of any filter cleaning or draining you may require. Don't stress about how to care for your spa. Let the professionals at All Seasons take care of the maintenance and repairs, so you can get back to relaxing.
Request Our Services
Here at All Seasons, we offer comprehensive spa and hot tub repair services. We pride ourselves on being Orland Park's one-stop-shop for all things spa and hot tub. Whether you are in the market for a new spa altogether or you need routine cleaning or maintenance, our technicians are the team for the job. It is important to keep your spa maintained with the right equipment and a proper cleaning routine. We can help you keep your spa in tip-top shape year-round. Check out our spa repair and maintenance services listed below. When you rely on the All Seasons team, you have access to the following:
Spa Replacement
Is your spa reaching an old age or not working properly? Are you sick of shelling out more and more money on repairs? Why not skip the repairs altogether and opt for a spa replacement? All Seasons Pools & Spas is the perfect place to shop for a new spa. Whether you are a first-time spa buyer or you already own a spa that is outdated and needs replaced, we can help. If you have an existing spa, we can help you get rid of it and put in its place a new Caldera Spa. Click here to learn more about our specialty, Caldera Spas.
Spa Cover Replacement
Already have a spa you love, but need a replacement spa cover? Stop into All Seasons Pools & Spas or click here to download a form today. We have spa covers that work with most models, even if you didn't purchase your spa with us initially.
Leak Detection Service
If you are losing a measurable amount of water in your spa and you're not sure where the source is, call our service department. We can help you schedule a spa leak detection today. You should be able to enjoy your spa with all the water still in the tub.
Control System Upgrades
When you're looking to upgrade your in-ground spa control equipment or your portable spa pack, we can help. All Seasons Pools & Spas will direct you to upgrade with the latest automated control system. This service includes full system setup, programmability, and regular everyday operation. Don't settle for an outdated model. You deserve a spa that is the pinnacle of luxury, and that means keeping up with the times. Upgrade to the latest control systems model with the help of All Seasons.
Drain & Clean Service
Has it been more than four months since you last drained and refilled your spa or hot tub? If you don't already know, your spa should be drained, cleaned, and refilled every 3-4 months to ensure fresh and balanced water. All Seasons Pools & Spas provides service to ensure our customers encounter minimal problems with water chemistry in their spa. We also recommend changing your spa filter every time you drain and clean your spa. Enlist our services to take care of the draining, cleaning, and refilling process for you. With our help, you won't have to worry about restocking your filters or cleaning products. We can take care of every aspect of the process to keep your spa clean and the water balanced.
Filter Cleaning
Dirty filters? No hassle for us! All Seasons can chemically clean your filter cartridges so they can be reused in your spa. It is important to change and clean your filter every four months. Cleaning your filter ensures your spa water remains clean and balanced. When you clean your filter, you remove debris and any mineral buildup that could be preventing the filter from working optimally. Cleaning includes the following four steps as needed:
Initial cartridge rinse
24-hour cleanser soak
12-hour chlorine soak
Final cartridge rinse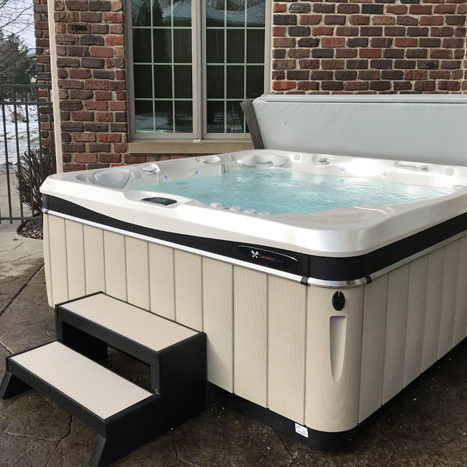 Why Chicagoland Chooses All Seasons
All Seasons Pools and Spas takes great pride in serving the Orland Park and Chicagoland areas in all their spa and hot tub repair needs. Our commitment to excellent work and compassionate customer service has earned us the Top 50 Pool Builders award for several years running. Pool and Spa News, one of the most respected publications in the industry, dubbed us worthy of this national acclaim and recognition. This means we are able to provide our customers with some of the best service in the country. We don't take the honor lightly. With more than 60 years' experience and counting, we work hard to maintain our reputation for excellence and to keep growing and evolving with the industry. We want to always equip our customers with the services they need to unwind in their very own oasis. To do so, we must stay abreast of industry trends and best practices, so we always provide the best available services.
Contact Us Today for Expert Spa Repair
Choose All Seasons Pools & Spas for your spa repair, maintenance, and cleaning in Orland Park and throughout Chicagoland. Avoid the hassle of draining your tub or attempting to fix a leak on your own and call in the expert services of All Seasons. Our team will take great care to implement the best spa and hot tub repair strategies in the industry. We guarantee quality repairs, maintenance, and cleaning every time you work with All Seasons. New to our business? First-time spa repair customers can call or email today to receive $20 off their first six visits! Call our service department directly at 708-778-3017, or contact us today and leave the spa and hot tub repair to us!
Contact Us Today to Turn Your Dreams into Reality