Skip to Content
Coping, Pool Decks & Patios
Make Your Yard Your Own!
It's your yard, it should reflect your style and tastes. Add a bit of pop and pizzazz and make it come to life! Utilizing beautiful materials as accents or going all out and creating dramatic effects throughout, All Seasons' design team will work with you to fit your coping, deck and patio scheme into something to behold.
Coping on your pool can be so much more. With options such as brick, quartz, or travertine, the choices are endless. Adding an accent material as coping shows off your pool's shape and adds character! Using dyes in concrete, stamping it, or going all out and using materials like paver bricks, flagstone and travertine make your pool look like no other.
Be unique, be bold, be reserved or conventional, but most importantly be you! Contact All Seasons today to see how we can make your pool and backyard pop!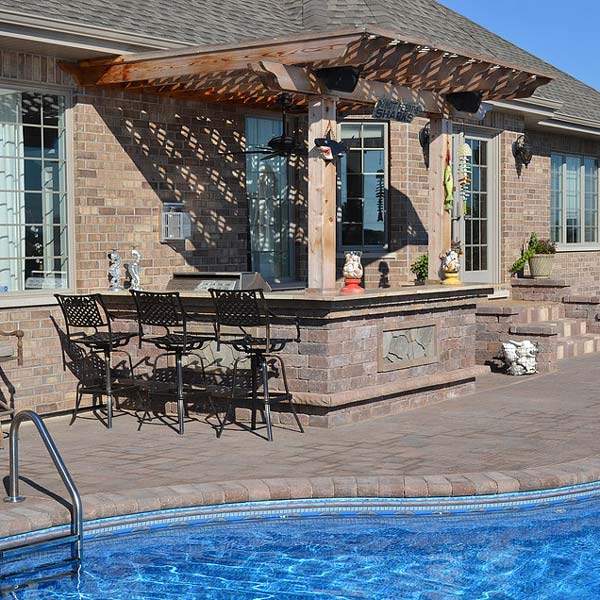 Coping
The interface between your pool wall and deck is the first place to look when creating a custom look to your new or existing pool or spa. Using the latest in brick, natural flagstone, granite, travertine and more, our team of in-house designers and installers will work with you to blend elements that compliment your home, and create stunning accents to your pool.
Whether new construction or remodeling, look to All Seasons to customize your pool coping!
Pool Decks
Standard concrete is a great material for swimming pool decks, but with a little bit of design, your new or existing pool can be the envy of the neighborhood! Dyed concrete adds just the right color, or perhaps you'd prefer stamped concrete to add some texture too? Or better yet, the latest in paver brick, natural flagstone, quartz or even travertine can make a gold medal winner into platinum!
Our expertise in all types of decking makes All Seasons' team of designers and in-house installers the ones to call for your new or existing pool decking needs!
Patios
Patio and outdoor living additions make any backyard feel more personal and inviting. All Seasons does more than just pools. Thinking of adding a patio and outdoor living space to your backyard? We can help!
Our team of designers and ICPI Certified paver brick installers have the ability to take that dead area of your yard and transform it into your personal gathering spot!
Contact Us Today to Turn Your Dreams into Reality