Skip to Content
Outdoor Living Area Contractor
Outdoor Living at Its Finest!
Chicago area families have been accenting their backyards with All Seasons' Outdoor Living Creations for many years! Enhance your backyard and your way of life! Contact All Seasons and add a custom fireplace, fire pit, outdoor kitchen, or outdoor bar to your backyard!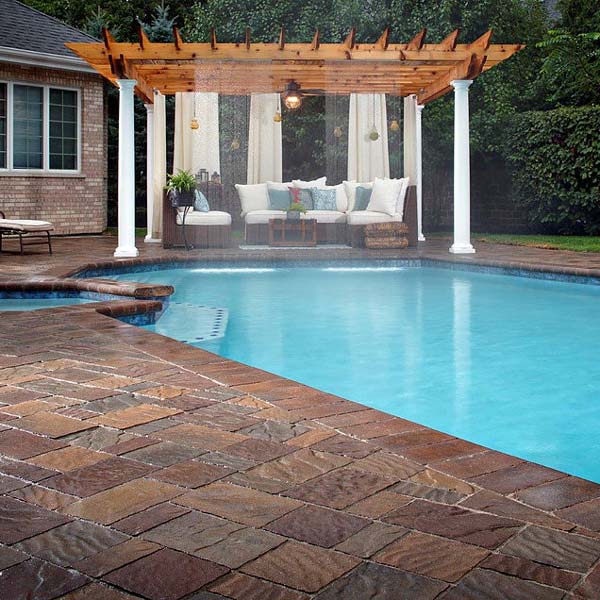 Pergolas & Pavilions Built from the Finest Materials
Custom pools are often just the start! At All Seasons, we specialize in completing the whole backyard! From custom pools to fireplaces, unique pergolas, pavilions, and more! We are your one-stop-shop for revamping your backyard space!
Our family-owned and operated business has been making Chicago area family's dreams come true since 1954. Our skilled in-house craftsmen strive for and achieve perfection with their unique blends of carpentry and masonry skills to produce wondrous outdoor living spaces for your family to enjoy. Whatever your wants and desires, All Seasons can create it for you. Pergolas, pavilions, and other outdoor living structures are crafted from the best natural or composite building materials available today. These additions provide comfort and enjoyment to many of our Chicago area clients.
Whether you have an idea in mind, or need suggestions, call All Seasons Pools today!
Coping, Decks, & Patios Make Your Outdoor Living Beautiful!
Make your backyard your own! It's your yard, it should reflect your style and tastes. Add a bit of pop and pizzazz to really make it come to life! Utilizing beautiful materials as accents or going all out and creating dramatic effects throughout, All Seasons' design team will work with you to fit your coping, deck and patio scheme into something to behold.
Coping on your pool can be so much more. With materials such as brick, quartz, and travertine the choices are endless. Adding an accent material as coping shows off your pool's shape and adds character! Using dyes in concrete, stamping techniques, or going all out and using materials like paver bricks, flagstone, and travertine will make your pool look like no other. Be unique, be bold, be reserved or conventional, but most importantly be you!
Outdoor Kitchens & Bars Allow You Stay Outside Longer
Enhance your backyard, invite the whole family, and let the feast begin! Built on site by All Seasons' skilled craftsmen, we use only the best materials available, with proven commercial stainless steel appliances, to create an outdoor kitchen that suits your cooking and entertaining styles. Countertops made of granite and natural travertine, structures finished with the finest brick and natural stone veneers, all combine to perfectly accent your home and your way of living.
Is your Chicago area home always filled with fellow friends and family? Outdoor kitchen options provide you with a way to entertain guests and still be outside to enjoy the party. At All Seasons Pools, Spas & Outdoor Living our goal is to make sure that your house is always the center of your social network. Creating a way to cook and eat outside is our specialty and we have a number of different ways to make this possible.
So much family time is spent around the table; when the weather is nice, why not enjoy each other's' company outside? After a dip in the pool, you can walk over to your new grilling station and get a delectable dish set up for your guests. With options like refrigerators, wine chillers, searing burners and more, you can be the master of your kitchen and even put on a little cooking exhibition for your guests while they wait. Don't be afraid to show off those skills!
We use only the highest quality commercial grade appliances, surrounded by custom crafted enclosures of brick, natural stone, granite, travertine and more, built by our in-house craftsmen. Adding an outdoor kitchen or bar to your backyard is All Seasons specialty. Whether we're constructing your new swimming pool, remodeling your existing pool and backyard, or even if you don't have a pool, call or email us today; you'll be happy you did!
Fireplaces & Firepits for Your Outdoor Living Space
Wood burning or natural gas, All Seasons' custom outdoor fireplaces, and fire pits have been warming Chicago families for years. Sit back, put your feet up, grab your favorite beverage and watch the nightlife as the flames dance and the fire warms. Whether close and intimate or open with space for all of your family and friends, All Seasons' design team can help you create that perfect space where everyone loves to gather!
Some of our Chicago area outdoor fireplaces and fire pits are a great place to dream of ideas for your yard! Our fire features offer a romantic evening accent and a comforting place to warm you in the cool night air. Pour a glass of wine and snuggle up to a warming outdoor fireplace or grab some marshmallows and toast them with the kids next to an All Seasons created custom fire pit. We can combine water elements with our fire features as well, to create soothing sounds of bubbling brooks with the hypnotic effect of the dancing flames.
Constructed by our in-house craftsmen from the finest in natural stone veneer and brick, these additions to your backyard are gorgeous both day and night. All Seasons can create units to burn wood, for that rustic campfire atmosphere, or if you don't care for the natural scent of burning wood, we can build them to use clean burning and economical, natural gas or propane. Just imagine custom stainless steel burners enveloped in fire glass or lava rock, with flames dancing through the surface, mystifying and relaxing your mind while warming your heart. Our fireplaces and fire pits will be the gathering spot in your backyard for all of your friends and family!
Remodeling Ideas for Your Modern Pool
Your backyard inground pool is the centerpiece of your outdoor living space. Make it come to life with some upgrades and updates to its style and design. All Seasons Pools & Spas are happy to help you find the newest pool trends to help keep your pool modern. If you are remodeling the outdoor living space with pergolas, firepits, and outdoor kitchens, you don't want to leave your pool's appearance stuck in the 90s. If your neighbors weren't jealous of your pool before, they will be once our expert designers are finished remodeling your pool. They assist when choosing to add a new darker liner, LED pool lights, mosaic tile designs, and even automation to make taking care of your pool as easy as talking to Alexa on your Amazon Echo. We can even update it by turning it into an infinity pool for a luxurious look!
Contact Us Today to Turn Your Dreams into Reality