Skip to Content
Pool Water Testing
Let Us Come to You to Test Your Pool Water!
Save time! All Seasons will come to you. We'll test your pool water, on-site, and email you the results with step-by-step instructions to make proper adjustments!
Sign up today as low as $14.99 per visit!*
*It's easy to qualify for $14.99 visits. All you need to do is purchase $300 in chemicals from us annually, sign up for as little as 4 consecutive weekly visits and live within a blue flag city shown on the map. If you live outside the blue flags but in a city with the red flags, no problem! Pricing within a red flag is $24.99 per visit.
The water testing technician will have most chemicals on their truck for purchase. Chemicals needed after the technician has left can be delivered at no charge on orders of $75.00 or more.
For any questions about this program, please call our retail store at 708-745-9345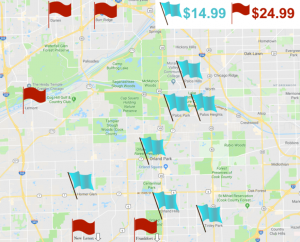 Contact Us Today to Turn Your Dreams into Reality