Skip to Content
Spa Oasis in the Fall/Winter Season
The sweet snap of cool air that provides a break from summer's heat is a welcome reminder that fall is on the way. Autumn is a time that we all associate with falling leaves, harvest time, the warm colors of orange pumpkins and red apples, days that begin to grow shorter and shorter, a little at a time.
But just because the kids are back to school, it doesn't mean that your backyard enjoyment time has to come to an end. BBQs for baseball playoffs and weekends full of football games can be the perfect backdrop for creating a backyard spa oasis. With a little help from your friends at All Seasons Pools & Spas, you can take your outdoor fall and winter game to an entirely new level of entertainment and relaxation.
Even though Pools & Spas is in our name, All Seasons also designs and builds decks, patios, outdoor kitchens, fireplaces and firepits, and can help you envision and create the ultimate outdoor oasis for fall and winter.
Tips For Creating the Perfect Spa Oasis for Fall & Winter
Invest in a Quality Hot Tub or Spa:
Make sure your hot tub or spa is well-insulated and in good working condition to ensure it can maintain a comfortable temperature during the colder months.
Provide Adequate Shelter:
Consider adding a pergola, gazebo, or outdoor canopy to provide shelter from rain, snow, and wind. This will help keep you dry and shielded from the elements while enjoying your spa.
Install Outdoor Heating:
To combat the cold, consider adding outdoor heating options like patio heaters, fire pits, or even an outdoor fireplace. These will create a warm and cozy atmosphere and help you stay comfortable in colder temperatures.
Warm Lighting: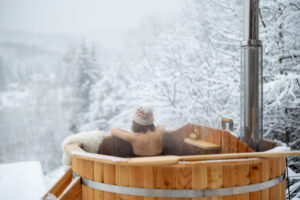 Use warm, ambient lighting to create a welcoming atmosphere. String lights, lanterns, or even candles can add a cozy glow to your spa area.
Add Comfortable Seating:
Provide comfortable seating options near the spa, so you can relax before or after your soak. Consider using weather-resistant cushions and blankets to stay warm.
Bring the Kitchen Outside:
An outdoor kitchen can make dinnertime an exciting and unique occasion. Cooking outside can be a thrill, whether over an open flame or a flat-top grill, perfecting a low & slow smoker recipe, or just roasting some hot dogs. It can be a chance to show off your culinary skills or to simply enjoy some cozy comfort food.
Use All-Weather Furniture:
Invest in weather-resistant outdoor furniture that can withstand the elements. Consider adding a table for drinks, snacks, and other necessities.
Insulate the Area:
If possible, insulate the area around the spa with outdoor curtains or heavy-duty plastic sheeting. This can help block wind and keep the heat in.
Bring the Entertainment Outside:
Consider installing an outdoor TV frame on your patio. With a little bit of wiring and a weatherproof locking cabinet, you can spend time communing with nature or in the hot tub while catching the big game.
Inflatable popup projector screens can make for a magical family movie night under blankets out on the lawn.
Mind Your Toes:
Cold surfaces can be uncomfortable during the colder months. Placing outdoor rugs or mats around the spa area can help keep your feet warm and dry.
Add Seasonal Decorations:
Decorate the area with seasonal elements like fall foliage, winter wreaths, and holiday decorations. Seasonal decor can enhance the ambiance and create a festive atmosphere.
Stock Up on Supplies:
Ensure you have all the supplies you need, such as towels, robes, and slippers, readily available. A designated storage area or container can keep these items dry and easily accessible.
Keep the Tunes Ready:
Set up outdoor speakers or a portable music system to play soothing music or nature sounds that enhance relaxation.
Maintain Your Hot Tub:
Keep up with regular hot tub maintenance, especially in colder weather when it's working harder to maintain the water temperature. Check the water chemistry, clean the filters, and inspect the equipment to ensure it's running efficiently.
Safety First:
Be mindful of safety. Clear snow and ice from walkways and steps to prevent slips and falls. Also, have a plan in place for emergencies, such as a first aid kit and a phone nearby.
Enjoy Seasonal Beverages:
Consider having a selection of seasonal beverages like hot cocoa, mulled wine, or herbal teas to enjoy while you soak. Of course, it's always important to stay hydrated, so make sure water is included among your seasonal libations.
Just because the summer season is winding down doesn't mean you need to wind down your outdoor patio enjoyment. The professionals at All Seasons Pools & Spas can help you perfect your outdoor spa oasis. Pools are just the start of what we do! Our award-winning team designs and installs complete outdoor solutions, including pergolas, outdoor fireplaces, firepits, pavilions, hot tubs, and more, in a variety of styles. Give us a call today at 708-349-2222 or stop by our showroom at 9135 W 135th St. in Orland Park. Let All Seasons Pools & Spas help you plan your fall and winter backyard spa oasis.